Traffic Travis
Traffic Travis is a whole new concept in SEO tools. With Traffic Travis you not only get the analysis tools to optimize you web pages, you also get the tools necessary to laser target - just the MONEY keyphrases. Why waste precious time optimizing for keyphrases that won't convert? Traffic Travis will help you find the really good ones.
Discovering new software's that can make life easier is always something that many webmaster and SEO expert search for. Traffic Travis is a SEO & PPC application that can make your life a lot easier and can help you in better optimizing your site for SEO. In this article I try to write a simple review of Traffic Travis, so you can better understand how this SEO tool can help you.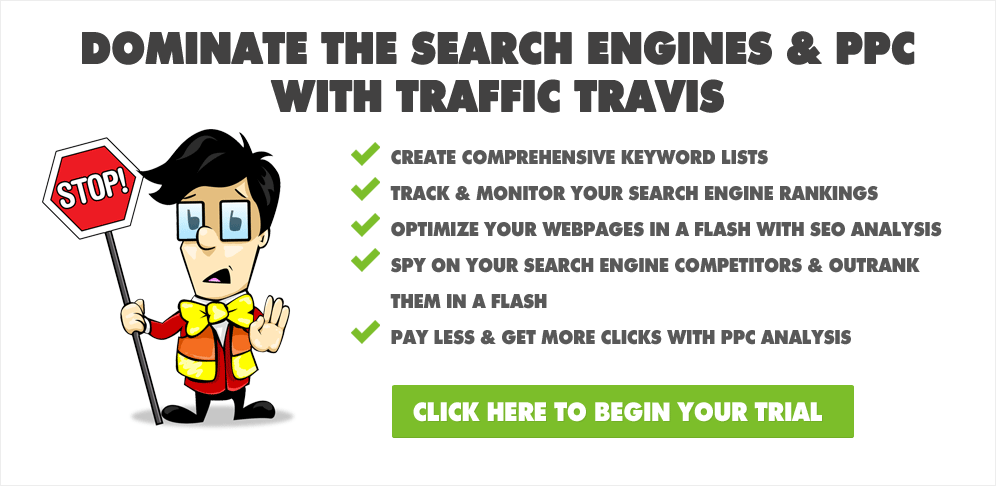 Many people search for a complete SEO software or SEO application that can help them with keywords research, niche finder and determined the market competition. One of the best tool so far that we think good for starter or any SEO expert is Traffic Travis. From it ease of use to data report and may other features, Traffic Travis one of the best tool that provide simple but yet complete SEO analysis.
Traffic Travis, by Affilorama, is one of popular SEO tools and being use by many webmaster. However, it's still preferred by many because of it's user friendliness. In it's early days it was known for making SEO fun. It's still quite useful for small sites but is not recommended for managing large or complex sites.
It monitors your website rank on multiple search engines, manages your PPC campaign with service providers, like Google Adwords and advices alternate keywords for your SEO campaign and helps you find the best one. Traffic Travis provides historical data analysis which can be used for site and competitor site tracking. The limit on keywords is also sufficient for exhaustive analysis of multiple sites. For updates and support facility Traffic Travis has email support.
Basically below is the features that Traffic Travis can offer you.
What Does Traffic Travis Do?
Website overview and status
Easily see a quick overview of the SEO performance of any of your websites via Traffic Travis's Dashboard. This includes your Alexa traffic rank, the number of pages that you have indexed from your site in Google, Yahoo and Bing; your top 5 pages and lots more.
Assess your on-page SEO
Traffic Travis makes it easy to understand your on-page SEO with a rating system that shows you where you went right, where you went wrong – and how you can improve. Don't forget to check out how your competitors' on-page SEO shapes up!
Quick competition research
Know immediately whether a keyword or niche is worth pursuing by seeing the difficulty ratings of each of the keywords. Done manually, analyzing the difficulty of each keyword would normally take hours of research, yet Traffic Travis does it at the push of a button.
Create keyword lists
Traffic Travis can dig up piles of relevant keywords for your campaign. Simply type something in and we will take care of the rest!
Discover links from competitors
Filter your competitors' backlinks by PageRank, anchor text and more, so that you can try to gain links from the same powerful sources AND you'll have a good idea of what you need to do from a backlinking perspective in order to secure the #1 ranking position in Google.
Track search rankings
Automatically monitor your search engine rankings on as many keywords as you wish. Run reports and visual graphs to see your movements over time.
Why You Should Use Traffic Travis
1. Find The Most Profitable Keyphrases
Figuring out what keywords to target is one of the most important aspects of SEO, many webmaster pay attention on this to create a profitable site. With Traffic Travis you can perform a complete research for profitable keywords and which keywords target that you can rank for. Easily you can filter competitive keywords to less competitive keywords for your own advantages. Traffic Travis helps you decide which keywords to target, taking the hard work in no time.
2. See what your competitors are doing.
You know the old saying about reinventing the wheel – right? Well, that saying definitely applies to SEO. Your competitors, the ones who are already ranking, are definitely doing something right, that you don't do to rank your site.
With Traffic Travis you had a tool or a set of tools that could analyze what those sites are doing, you could then just do those same things and you'd be ranking right along with them.
Internet Business Promoter or IBP Tool also can perform the same task as what Traffic Travis do, make sure you check our Internet Business Promoter review for more information.

IBP
3. Optimize your web pages
Once you've selected your profitable keywords and figured out how your competitors are ranking for them, it's time to optimize your pages for the proper keywords. Traffic Travis includes the tools to help you actually write your web pages to insure that your keywords are used enough and in the correct areas of your page to rank highly in the search engines.
Top Five Reasons Why You Should Buy Traffic Travis Right Now!
Many other webmaster already using it – you should try.
It's So Easy To Use – Build for Newbie not just for Professional use.
The Tools Are Integrated So you can't miss a step.
With Traffic Travis, you'll be able to find and target just the money keywords and keyphrases.
Unlike Other Systems Traffic Travis is the whole package – From Keyword Research To Placement Checking, You Even Get PPC Optimization.
Traffic Travis – Really Worth Your Money or Not?
The features that Traffic Travis has for sure makes him a winner. The speed with which is working for sure is a plus and can satisfy everyone. Traffic Travis has everything you need to track keyword position, analyze the concurrence and find new links opportunities.
Personally I use it for my niche site projects and also for the sites that I do SEO services, I admit that Traffic Travis one of the best SEO tool available on the market so far.
Traffic Travis

,